Services
Counseling.
Experienced UAB "Darbis" staff will provide product information, explain the differences and benefits, and help you choose the product that best suits your needs. You can consult by calling the phones listed in the contacts section or by e-mail. if necessary, our employee will arrange the delivery of goods in your company.
Designing.
To optimize the layout of your archive or warehouse shelving, to design changing rooms, office space, email the layout of your premises, express your wishes and within a few business days we will prepare a visualization and project estimate. For larger projects, we have an opportunity to send a specialist for consultation and indoor measurements.
Manufacturing.
During the projects we adapt our products to the individual needs of the client, which includes producing various complementary parts, coordinating individual products with each other, carrying out necessary repairs.
Delivery.
Project goods are delivered by UAB "Darbis" transport, but in most cases, the goods are delivered by our experienced logistics partners, who also provide delivery service (it is necessary to book in advance).
Mounting.
UAB "Darbis" installers are skilled in assembling racks and office furniture, so they can solve many problems on the spot. Our installation work also has a warranty period.


Warranty maintenance.
Most items are subject to 24 months guarantee period. Defects discovered during this period will be fixed within a few working days by professional installers, otherwise, faulty goods will be replaced.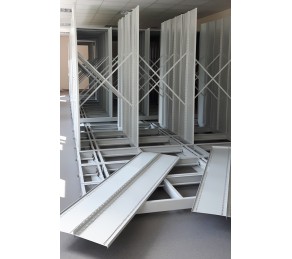 Projects
All projects